"One in three older adults feels lonely, according to a survey released this year of 2,000 adults aged 50 to 80 by the University of Michigan."[Ref]


Know people who are lonely or brokenhearted?
The groundbreaking book "The Joy of Being Alone" could be just what they need.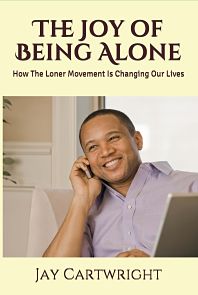 Get the ground breaking book from any bookseller!


Amazon
Apple Books
Scribd Books
Smashwords ebooks
Google Books
Barnes & Noble
Kobo Books
Or ask for it at your library!
---
Introduction
Getting Started
The Difference Between a Loner and a Lone Wolf
The Loner Movement is Different From Being Incel
Obsessive Socializing Can Have Limited Value
I'm not depressed I'm just tired of people's crap.
Life Might Be Easier and Safer By Not Being Coupled and/or By Being More Selective When Socializing
Various Reasons People Belittle Those Who Aren't Socially-obsessed
Some Reasons for Truly Feeling Lonely
Relationship Addiction
Mating Relationship Stress Cuts Down On Your Life Expectancy
Marital Stress Cuts Down on Your Life Expectancy
The Sex Drive Can Make People do Stupid Things
Little known Special Masturbation Techniques
For Women - A Specialized, Often Overlooked Breast Massage Technique
For Men - An Important to know Specialized Masturbation Technique
Potential Benefits of Being a Loner
Conclusion
Bibliography/References